Envantage natural gas testing laboratory provides a wide range of quality and purity testing analyses. These include basic physical measurements such as density, vapor pressure, and dew point to complex composition analyses using GC and GC-MS techniques. Among the services provided:
Natural gas composition
BTU determination
Sulfur analysis
COS determination
Oil and Condensate Testing
Testing support is provided to clients in the exploration, production, and petrochemical markets. Natural gas analytical testing applies to a broad range of gas types:
Tight gas
Shale gas
Landfill gas
Refinery gas
Biogas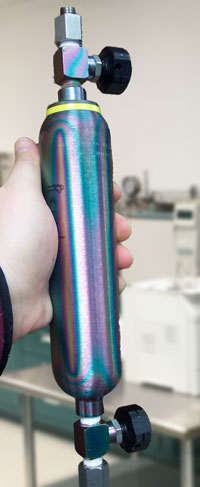 A full suite of ASTM and GPA standardized testing methods are utilized in our natural gas testing program.For example:
GPA 2261 for natural gas analysis
GPA 2286 for extended gas and NGL analysis
Additional methods are used to assess LPG and NGL products as well as BTEX
Customized analyses and research programs can also be conducted.
Envantage has been providing analytical expertise and quality testing services since 1992. Contact us with the form below or click here for more contact information. Call or email – we will be happy to discuss your testing requirements and develop a program to meet your needs.