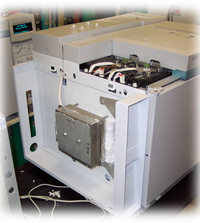 Envantage, Inc. offers expert laboratory instrument repair services. Our specialty is chromatography equipment and the associated peripherals. We have a well stocked inventory of parts and supplies and are prepared to service many common analytical instruments in your chromatography laboratory including:
Gas Chromatographs: HP,  Agilent
Liquid Chromatographs: HP, Agilent
Autosamplers: HP, Agilent
Headspace: HP, Agilent, Tekmar
Integrators: HP, Agilent,
Mass Spectrometers: HP 5972, 73, 75, and 77
We also service Coulometric and Volumetric Karl Fischer Titrators as well as desitometers
Click here for more information about our Anton Paar Density Meter Repair Service
Click here for more information about our Aquastar Titrator Repair Service
Services are available to improve performance, quality, and reliability in your analytical laboratory:
Recondition existing equipment
Modify equipment
Automate analytical equipment
Instrument repairs can be performed at our full service analytical laboratory repair facility.
Onsite services are deployed out of our Cleveland, OH and Houston, TX offices. For repair work outside of the immediate vicinity of these areas consider shipping your instrument to our facility for bench service. It is the most economical way of getting your instruments repaired.  Repairs at your remote site include time and travel expenses and delays can be introduced when diagnostics reveal extra parts, supplies, and visits are needed. Ask about our chromatograph repair service; we will send shipping materials and provide packing instructions to ensure your valuable equipment makes the round trip safely and securely.