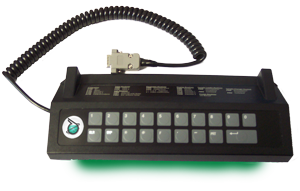 Anton Paar DMA Models 48 and 58 Density Meters have been in wide circulation for over 20 years. Common problems experienced today by operators of these reliable workhorses include:
Broken "paddle" keypad
The original Citizen's printer is not working
The unit will not calibrate
Significant savings can be achieved by repairing rather than replacing your densitometer. Envantage offers a multi-tiered Anton Paar densitometer repair service that features a stronger, more durable keypad for the DMA 48 and DMA 58 Density Meter units.  We manufacture our own replacement keypad and reinforce the touch-sensitive surface with more layers of protection so they will last longer in the laboratory.
Disclaimer: Envantage has no affiliation with Anton Parr. The replacement keypad we manufacture is our own design.
We also offer a replacement printer, pre-configured to work with the Anton Paar unit.
Contact us for pricing if you need:
The paddle-style keyboard for your Anton Paar DMA 48 or DMA 58 density meter repaired/refurbished
A new printer for your Anton Paar DMA 48 or DMA 58 density meter
Cleaning and recalibration of your Anton Paar DMA 48 or DMA 58 density meter
Replacement/refurbishment of internal parts such as power supply, U-tube cell, etc.
…..or any combination of these services
We also repair and refurbish other makes and models of Density Meters so contact us if you are having any kind of problem and need repair service on your Density Meter.