The ASTM D8071 PIONA+ Analyzer determines bulk concentrations of the hydrocarbon classes of paraffins, isoparaffins, olefins, naphthenes, and aromatics (PIONA), and speciates hydrocarbons up to C6 along with oxygenates and BTEX compounds. The official name of the method is:
"Standard Test Method for the Determination of Hydrocarbon Group Types and Select Hydrocarbon and Oxygenate Compounds in Automotive Spark-Ignition Engine Fuel using Gas Chromatography with Vacuum Ultraviolet Absorption Spectroscopy Detection (GC-VUV)"
The analysis uses a GC equipped with VUV Analytics signature VUV detector, a single 30 meter column, and can be done in 34 minutes.
ASTM D8071 Capabilities
The D8071 PIONA+ Analyzer is more complete and efficient than individual ASTM referee methods:
Single injection
Single 30m Rxi-1ms column
34-minute total analysis time
No special setup requirements
No traps, pre-column tuning, or calibration requirements
The following table shows the compounds that can be analyzed using ASTM D8071 and the VUV PIONA+ Analyzer, along with the ASTM methods that can potentially be replaced by D8071. Test results show excellent correlation between VUV data and a variety of other ASTM methods. Additional correlation data is available upon request: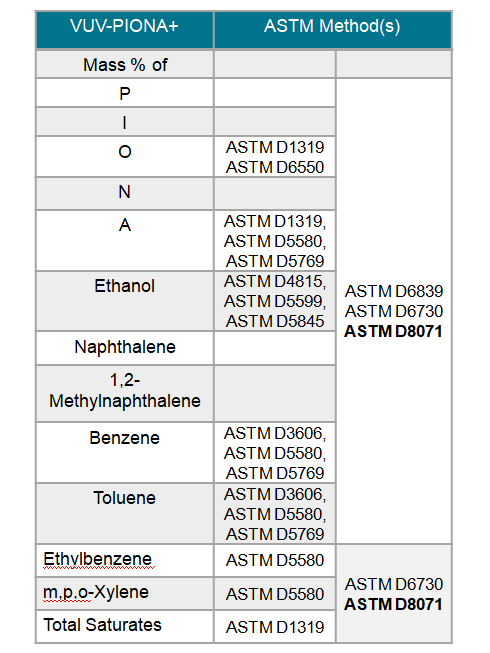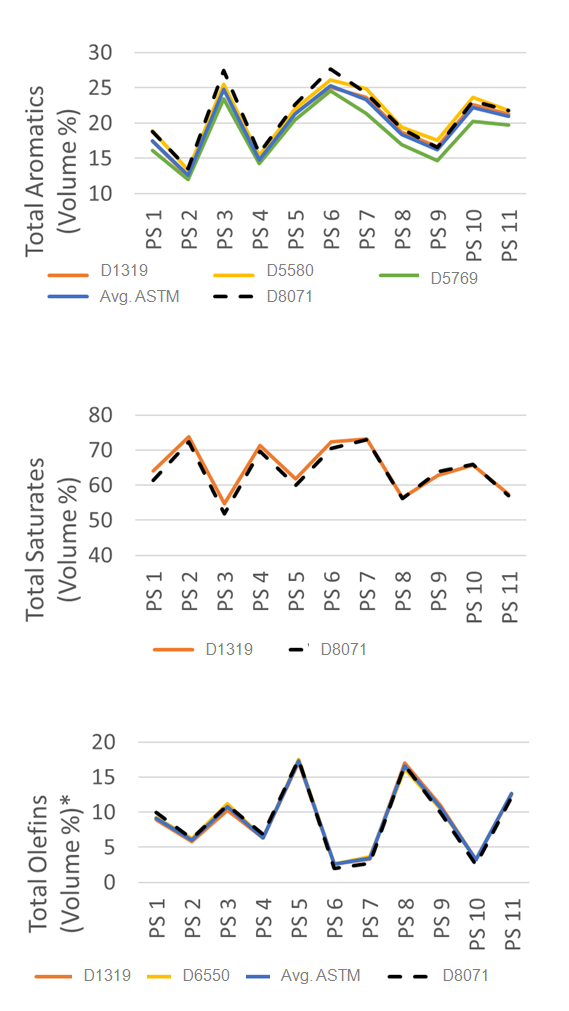 Comprehensive Methods (e.g. Reformulyzer and DHA) are Simplified
Easy setup
VUV AnalyzeTM software reduces interpretation time
Less downtime due to system maintenance and updates
Flameless detector is safer in process environments
No cryogenic gas
No traps
No column tuning
Faster analysis
VUV vs. Reformulyzer (ASTM D5443 and D6839)
VUV shortens typical Reformulyzer runtimes by 2X
1 day set up vs. 1 week Reformulyzer setup
Less downtime for system maintenance; 1 day for VUV column change vs. 21-day Reformulyzer requalification.
One column, one method enables consistent results across refinery sites
Analysis data of a 512 Gasoline Standard shows good agreement between the GC-VUV and Reformulyzer (Ref). Comparative data for other sample types is available upon request (Reformate, Hydrotreater, Light Naphtha).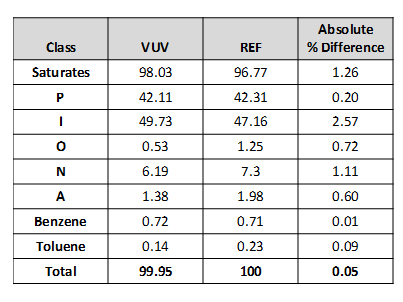 VUV vs. DHA vs. Reformulyzer
DHA runtimes can be condensed 4 – 6X
No tuning so setup is faster
Automated data analysis using VUV AnalyzeTM software reduces analyst data interpretation time
Improved accuracy in DHA reporting by mitigating over and under reporting of key analytes. Samples with high C10 – C12 concentrations of saturated hydrocarbons and aromatics can be accurately quantitated
Improved quantitative analysis accuracy of critical co-eluting analytes through VUV spectral deconvolution
Each compound class displays distinct spectral features. It is not necessary to speciate a compound in order to determine its group-type.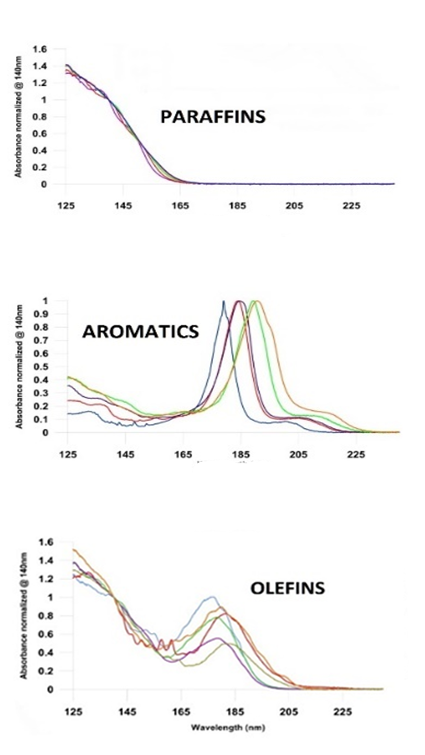 Aromatics Comparison (Volume %); several samples were analyzed with DHA, VUV, and Reformulyzer. Additional group-type comparison data available upon request: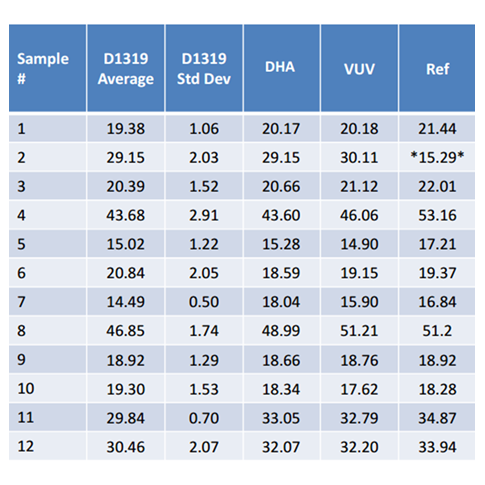 Key analytes possess characteristic spectral features. Identification and quantification is possible for co-eluting components using the VUV Time Interval Deconvolution (TID) software.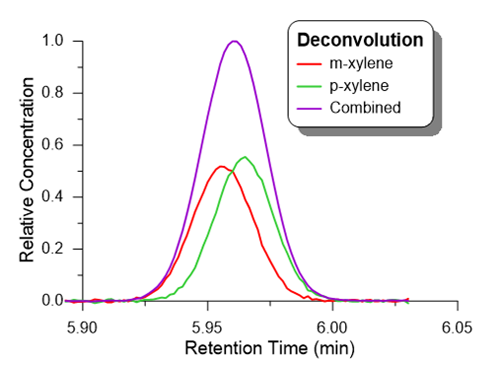 Benzene Comparison (Volume%); additional analyte comparison data available upon request: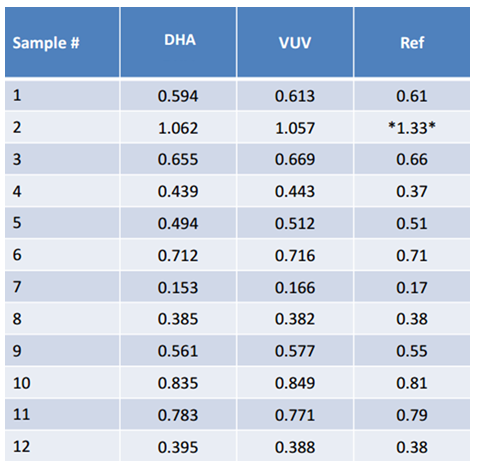 Service, Maintenance, and Support
Envantage engineers are factory trained and prepared to install and support the VUV Analytics VUV detector. Training in the use of VUV AnalyzeTM software is provided.
Contact Us to see if the VUV PIONA+ analyzer is a good fit for your laboratory. More comparative data is available upon request.