The Selerity Series 4000 Supercritical Fluid Chromatograph is rugged, reliable, reproducible, and easy to use. Because it uses carbon dioxide as the main mobile phase supercritical fluid chromatography (SFC) is recognized as a "green" technology. SFC applications have environmental and cost advantages compared to applications that require solvent mobile phases (HPLC) or helium (GC).
What Is Supercritical Fluid Chromatography?
SFC ia a chromatographic technique in which the mobile phase is neither a gas nor a liquid, but has properties of both: formally a supercritical fluid. At pressures and temperatures above its critical point, a gas becomes a supercritical fluid and it possesses densities and other properties that are intermediate between those of gases and liquids.
When Should You Use Supercritical Fluid Chromatography?
SFC offers distinct advantages over gas chromatography (GC) and liquid chromatography (HPLC) when:
Compounds are not volatile enough for GC without derivatization
Compounds do not have chromophores suitable for UV detection under HPLC conditions
Compounds are unstable at typical GC temperatures
Universal detectors such as the flame ionization detector (FID) are desired that are not available for HPLC
How Can You Apply Supercritical Fluid Chromatography in Your Laboratory?
SFC finds applications essentially wherever chromatographic techniques are used. You can now complete your laboratory with the Series 4000. Just a few of the applications possible with SFC Include:
Petroleum
ASTM D5186 testing method for aromatics and polyaromatics in diesel and jet fuels
ASTM D6550 testing method for olefins in gasoline
Heavy petroleum compounds and residues
Petrochemicals
Thermally unstable compounds, e.g., isocyanates
α-acids
Pharmaceuticals
Thermally unstable compounds
Polymers such as PEG's and polyalcohols
Foods
Fatty acids
Natural products
Surfactants (non-ionic)
Polymers
Light polymers (<5,000 to at most 10,000 amu)
Polymer additives (especially where GC or HPLC require derivatization)
Electronic Industry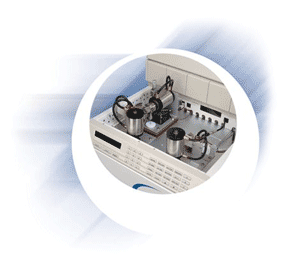 Superior Technology
Envantage is pleased to partner with Selerity Technologies in bringing the Selerity Series 4000 Supercritical Chromatograph to the petroleum, petrochemical, and related industries. Selerity Technologies is committed to technological leadership in the manufacture of SFC instrumentation. In addition to being an environmentally friendly "green" alternative, the Selerity 4000 offers superior features and functionality such as:
Fully integrated software that controls pump, oven, autosampler, and data acquisition package
Temperature-controlled pressure transducer for better reproducibility
10 mL syringe pump for pulse-free pressure-controlled flow and minimal CO2 usage
Innovative column technology to suit all of your application requirements
Large capacity oven suitable for any column configuration
A secondary independent column heater to improve peak shape and decrease analysis times
Low dead volume injections and column switching with Secure–Fit ™ column connectors
Simplified split/splitless injection for capillary columns
Find out more about the Selerity Series 4000 Supercritical Chromatograph by downloading this brochure:
Contact Us and let's start a discussion to see if the
Selerity Series 4000 Supercritical Chromatograph
is a good fit for your laboratory!